Thunderstorms
On a hot summer day we may dream of cooler times (and of ice, perhaps). And then, with a crash of lightning, ice falls as a down-pour of hail stones. Ice is also there in the thunderhead, actively involved in the generation of lightning. One of the most spectacular phenomena in everyday life, lightning was once explained as the thunderbolts of angry gods; in a later age it stimulated research or the basic nature of electricity. As it turns out the micro-physics of ice holds the key to how charge develops in clouds. The electrification involves a liquid film only a few molecules thick that coats the surface of ice crystals blowing through the clouds.
Lightning typically originates from the base of the cloud where it is cold enough to freeze droplets of moisture. As these tiny ice crystals rise in updrafts, they bump into large clumps of hail falling to the ground. The smaller ice crystals tend to ricochet upward from the collision with a positive charge, leaving an equal negative charge on the falling hail. As a result, the cloud builds up electrical charge, with positive charges near the top of the cloud and negative charges near the bottom.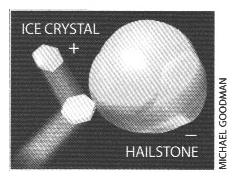 Researchers gathered this information from observations and laboratory simulations, but they have struggled to account for the amount or sign of the clouds' electrical charge. In 1984 Greg J. Turner and C. David Stow of the University of Auckland in New Zealand proposed that the thin films of water that coat the surfaces of the ice crystals and the hailstones might be involved in the charging process. Five years later our University of Washington colleague Marcia Baker and one of us (Dash) explained how this might work: electrical charge is carried along with water that moves from the hailstones to the ice crystals when they collide.
Brian Mason tested this theory in our laboratory as part of his doctoral research, which he completed in 1998. Mason weighed grains of ice before and after a collision using two quartz-crystal microbalances, which can detect changes in mass on the order of a few ten-billionths of a gram: sensitive enough to detect the minuscule mass of a few layers of water molecules. He also measured the electric currents that flowed during the collisions to determine whether charge moved with mass.
As Baker and Dash's theory had predicted, a transfer of mass was always associated with the movement of charge. The growing ice crystal - which gained a layer of water only hundreds of molecules thick over an area of one hundredth of a square millimeter, adopted a positive charge after the collision.
In a surprising and significant result, Mason found that the amount of mass transferred was far greater than the basic theory of surface melting, which depends on temperature and the size of the crystal, could explain. This discrepancy was one of the essential clues that led us to develop a more rigorous model of the collisions that electrify clouds. At the heart of our theory is a mechanism that increases the tendency of ice to liquefy even below its melting point: a forceful collision can create enough damage in the ice's solid molecular lattice to melt additional liquid, even at 10 or more degrees below its melting point. Together with impurities such as carbon dioxide that are commonly present on ice, collisions lead to an increasingly thick film of water. The thickness of the film is important because it liberates more liquid mass and charge that can then move from one icy surface to another.
The formation of a liquid after such an impact also liberates negatively charged ions that had accumulated near the surface of the ice crystal as it grew. During a collision, ice crystals and hailstones share a melted layer, and the growing crystals lose some of their negative ions. That is how we suspect that hailstones falling through the base of the cloud gather the negative charge from which lightning originates.
Further experiments and calculations will test these new ideas, but there seems little doubt that the charging mechanism that leads to spectacular lightning displays and the forces that drive frost heave lie in a layer of water only a few molecules thick.
16 April 2001
The Authors
JOHN S. WETTLAUFER and J. GREG DASH, both physicists at the University of Washington
Their joint research has focused on how microscopic properties of ice surfaces and phase transitions drive large-scale phenomena in the environment
Further Information
ICE PHYSICS AND THE NATURAL ENvIRONMENT. Edited by J. S. Wettlaufer, J. G. Dash and N. Untersteiner.
NATO ASI Series I: Global Environmental Change, Vol.56. Springer-Verlag, 1999.
For (many) additional references, visit Funo Ercolessi's Surface Physics Web site at www.sissa.it/cm/sp/course/refs.html
But WHY?
The latest theory about 'surface melting' is well summarised by Wikipedia, so we will use a quote from there.
"Until recently, it was widely believed that ice was slippery because the pressure of an object in contact with it caused a thin layer to melt. For example, the blade of an ice skate, exerting pressure on the ice, melted a thin layer, providing lubrication between the ice and the blade.
This explanation is no longer accepted. There is still debate about why ice is slippery. The explanation gaining acceptance is that ice molecules in contact with air cannot properly bond with the molecules of the mass of ice beneath (and thus are free to move like molecules of liquid water). These molecules remain in a semiliquid state, providing lubrication regardless of pressure against the ice exerted by any object."
Chang, Kenneth (February 21, 2006). "Explaining Ice: The Answers Are Slippery". New York Times. http://www.nytimes.com/2006/02/21/science/21ice.htm.
Who could have guessed that a thin film of liquid on a bit of ice could create so many research opportunities?