FAQ - Cooking and Food
Send any comments to the maintainer Roger Caffin
All things considered, the most important question asked on any trip is "what's for tea?" - other than "where are we?" of course (for that, see the navigation section). Despite what some people have suggested, you do not have to eat miserable tasteless burnt food on any trip, even on a light-weight one. Not if you know what you are doing, anyhow.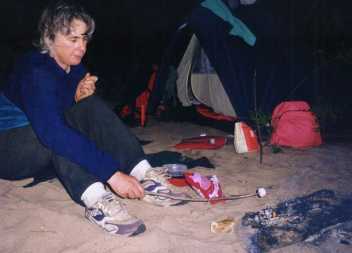 Fires vs stoves vs cold food
It used to be the tradition in Australian bushwalking to light a campfire and "boil the billy". Well, you still can, at least in some places. But fires are not ideal for cooking, and in some fine walking areas like above the tree line in the Snowy Mts and in all of Tasmania fires are (rightly) banned. Other problems with fires include the following:
Cooking over a fire leaves your cooking pot all black and sticky on the outside: try putting that in your pack each day for a week without getting the mess on other things
Cooking over a fire often results in slightly burnt food or at least a burnt pot
Cooking over a fire often results in a lot of smoke in the eyes and sometimes burnt fingers
Cooking over a fire in the pouring rain is a miserable experience at the best, and a failure at the worst
Cooking over a fire in the snow is a farce at the best
Fires leave burnt rings on the ground, and in some places these have grown huge and unsightly
Fires on some soils run a serious risk of burning underground and smouldering away after you have left
So many walkers with a bit of experience cook over a stove these days. Yes, you have to carry the stove and the fuel, but the trade-off seems worth it. In alpine areas and in the snow you don't really get any choice anyhow: you have to have a stove. Of course, you could just eat cold food. In tropical areas that may well be a satisfactory solution for some, but (having tried it) in the snow it is a very miserable existence. Try it if you wish. There is now a separate set of pages just for Stoves.
Fire Etiquette
Despite the comments above, sometimes a fire is what you want. Most of us have lit a few in our life. We suggest the following guidelines:
Keep the fire small - "the bigger the fire the bigger the fool"
Make very sure it can't spread - clear an area around it
Do not light a fire on soil with a high level of organic matter, where it could burn underground
Put it right out with water before you leave or go to bed
If there is an existing fireplace or burn mark, use that
Never put anything in the fire which will leave a residue - like alfoil or steel or plastic
Remove all traces of your fire afterwards
Some walkers have reported on an interesting way of minimising the impact of their fire in grassland areas. They create their fireplace by digging up a square sod of grass and removing it carefully. After they have extinguished the fire they remove any large lumps of wood or charcoal and replace the sod in the hole, and water it. A few claim to have revisited their old fire sites later on and not been able to see the traces. Of course, you have to have a means of digging up the sod of grass.
Lighting a fire on a sand bank by the waters edge is not too bad either. You can remove the ashes fairly easily; in some positions the next flood will do that for you. And the sand is not going to allow the fire to spread very easily either. You find sandy floors in caves under sandstone cliffs in NSW, but it is harder to clear up the ashes here. Some cave fireplaces have grown over the years and created a large area of very dirty floor. That's not so good.
Ultimately, what you do is up to you. Just have a thought to the generations (of our children) which will follow us, and what they will think of us.
Fire Lighting
No, this is not a Boy Scout lecture on how to light a camp fire. It's a short listing of different ways to create fire, and some interesting URLs on them. Any other URLs would be of interest.
Matches
Prosaically boring - although the history of matches is more interesting. Match makers used to develop 'Phossy-Jaw' from the phosphorous in the early matches. Quite unhealthy. Conventional matches justify little comment, but 'Greenlights' are waterproof matches which actually do seem to work well. Pity the striker on the box isn't waterproof, but I am sure people can find ways of looking after this.
Butane Lighters
The obvious way to light most stoves. I doubt I have ever bought a lighter: I find them or they are given away. I have been using one standard lighter for about 6 years now! I am not sure whether the butane or the flint will expire first. However, note that butane stops vaporising around 0 C or freezing point! This means you can't use a butane lighter under really cold conditions (like on winter snow trips) unles you have warmed it up. It may be necessary to carry your lighter in an inside pocket for a while before using it.
Shellite Lighters
An older form of the butane lighter. One of the most common versions was the American 'Zippo Lighter'. This was usually a squat metal version of a butane lighter with a wick coming out of a Shellite container and with the same sort of flint wheel.
Fire Pistons
Huh? Well, when you run a gas stove for a while the expanding gas chills the cartridge. Many of us will have seen that. Conversely when you pump bicycle tires the output nozzle of the pump gets hot as the air is compressed down the hose. OK, we understand that. Now imagine what would happen if you suddenly compressed a small volume of air very hard. It should get very hot, right? It does, and under the right conditions it can get so hot it reaches about 800 C, and a small amount of tinder in the hot gas will catch alight. A device for doing this is called a fire piston, and there are enthusiasts devoted to making such devices. One of them has a web site called firepistons.com. Fascinating stuff.
Any more contributions?
Cooking gear: Pots and pans
You can use a whole range of cooking gear to make your three course dinner. However, you also have to carry it. This can be sobering. Some lessons learnt over the years are as follows:
Burning food or frying it creates nasty washing up problems, while boiling doesn't.
The only thing you miss is that delightful mix of carcinogenic amines you get from high temperature treatment of meats and fats. As you won't normally have any fresh steaks one week into a long trip, this may not matter so much. Anyhow, there are other ways of getting a good taste, such as herbs and spices.
Fatty foods (or the burnt pots and pans) create lots of washing up problems too.
Everything you eat is going into one stomach.
Consider starting with just one pot, even if there is some minor carry-over between courses. You can cook the rice in with the stew for example. Only wash up at the end.
Cooking inside the tent fly in bad weather is one thing; cooking inside the tent on the ground sheet is another. The stove is very hot and the dinner is very messy.
A pot of boiling water is hot and dangerous: use a billy grip to pick it up. Or carry a lot of burn cream.
Use a Dutch oven often
Once you have got some food boiling it will probably cook for quite a while without further heat (or fuel). Put a tight lid on it to keep all the steam in, insulate it and let it stand for a while. A shiny pot may not even need much insulation, as long as it sits on some padding. But if you put it in your sleeping bag you may be asking for problems.
You need a small butter knife for lunch and a spoon for dinner, plus one billy grip. You don't really need any other cutlery. All the rest is extra weight and profit to the vendors.
You need a bowl for breakfast, lunch and dinner, a tea cup and we suggest a small soup bowl. A flat sheet of 2mm thick polyethylene is extremely useful as a cutting surface: it protects the inside of your bowls, but only one per tent is needed. All the rest is weight and profit to the vendors.
Two Minute Noodle soup is an excellent and quick starting course, but if you put it in your tea cup you will taste it with your next cup of tea. Minimalism can be carried too far.
Edible Gear
What a wonderful idea: gear you can eat as you go. Each day your pack gets lighter, until on the last day all you have left is some underwear. Although, come to think of it, I have heard that you can even get edible underwear down at Kings Cross. Ah well, check out the Edible Gear web site to learn more.
Billy Grips, or Spondonicals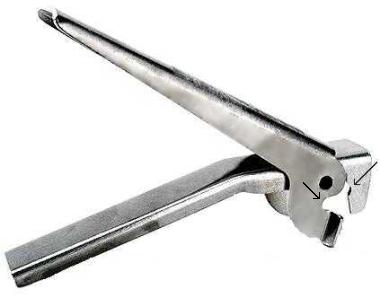 There is no doubt that these are a marvellous invention, and (unlike so many trivial "accessories") a pair should be in your pack. They completely solve the problem of handling a full hot pot. They work like a bent pair of pliers, with the rim of your pot fitting into the notch shown at the tip of the arrow. Drop the grips over the edge of the pot and close the handles. The notch and the long handles mean you don't have to squeeze very hard to maintain a secure hold. There are several brands on the market. Some are rather expensive (like the MSR ones, but they have insulated handles), while others are simple and cheap (like the SIGG ones in the picture).
They are wonderful tools, but don't leave them attached to the pot while cooking: they will get very hot in the updraft from the stove. The best place to leave them is on top of the lid on the pot. That way they hold the lid down, keeping steam in, and you will know exactly where they are when you need them.
As to the correct name: opinions differ. The following extract from aus.bushwalking (19 Jul 2002) is presented with an entirely straight face in the interests of the unending quest for truth. It should be noted that the term really applied to the old ones made from several bits of wire: they looked as though they were meant for opening an incision or gripping bits of intestines.
"A campfire discussion over the weekend raised the question as to where & when the word spondonicals (billy tongs/grips/lifters) began. This was explained to me by Dave Kelly, who introduced the term to me on a rainy, multiday trip through Wollongambie on the Australia Day weekend of (I think) '72. It's from a Three Stooges movie where they are performing a surgical operation. Larry (the guy with the straight hair anyhow) is the surgeon and the other two are helpers.
Larry: "anaesthetic"
Helper passes large rubber mallet, Larry dongs patient on head.
Larry: "scalpel"
Helper (passes scalpel): "scalpel"
Larry: "scissors"
Helper (passes scissors): "scissors"
Larry: "spondonical"
Helpers:"spondonical?!" (rummage frantically through piles of instruments)
The pronunciation back in the 70's was "spondonical" or "spondonicle". For the original spelling, we'll have to go back to the Three Stooges script. I'm surprised people have forgotten this, it was common knowlege back then. I'm sure I've explained this before on the newsgroup, but I didn't find it in dejanews at least."
Joe Mack
SUBW, early 70's"
© Roger Caffin 1/3/2002