FAQ – Planning for Expeditions
A collection of reports from various walkers about their expeditions
Very much a page under construction...
Send any contributions to the maintainer Roger Caffin
Introduction
Supose you want to go to Nepal or America or Europe to do a long walk - an expedition. Wonderful idea, but these places are a long way away, and without a bit of planning things may not run quite as you wanted. OK, you need to plan, but where do you start?
This section includes a number of reports from various walkers who have organised their own expeditions. The reports concentrate on the planning part: where do you get information, how do you get there, what can you get there, how do you organise food supplies, what can go wrong and so on. They do not diary the trip it self: we will leave that for another day.
Expeditions
Any significant bushwalking or mountaineering trip overseas should qualify; hitchhiking around Europe by hostel doesn't. Major trips in Australia should qualify as well, but some more definition is needed here. For a novice, a three day trip somewhere nice might seem like a major expedition at the time, but it wouldn't qualify here. Trips like the full Australian Alpine Walking Track would because there are logistic problems of food supply.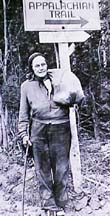 But before you get too excited about planning and logistics, let me quote from http://www.monmouth.com/~mconnick/ultralig.htm about what can be done. Emma "Grandma" Gatewood, whose picture is shown to the left (from same URL), is the considered by many to be the "patron saint" of ultralightweight backpackers. She hiked the entire Appalachian Trail from Georgia to Maine in 1954 when she was 67, becoming the first woman to thru-hike the AT in one season. She hiked the entire distance alone. Two years later, she thru-hiked the entire trail and again did it alone. Over the following five years she hiked sections of the trail until she had completed the entire trail a third time.
What made accomplishments even more interesting is that she never carried more than 20 lbs of gear and food during her hikes. In fact, she had complete contempt for traditional backpacking gear. Instead of boots, she wore Keds sneakers. Instead of an expensive parka, she wore a rain cape which she also used as a ground cloth. Instead of a heavy tent, she carried a plastic shower curtain for shelter. Instead of a sleeping bag, she used an army blanket. The only remaining items she carried were a sweater, jacket, flashlight, Swiss Army knife, a small pot, first-aid supplies, safety pins, needle and thread, soap, and a towel. In fact, she didn't even use a backpack at all, but just carried a homemade demin sack over one shoulder.
Her incredible accomplishments should give us pause to reconsider what's really necessary in the backpacking equipment we carry. [Ah well, them's were the days - RNC]
Anyhow, it seemed like a good idea at the time to catalogue reports somewhere accessible, and what better place than here? So this is the start of such a catalogue: much more work needs to be done of course. Can you contribute?
Australia - AAWT
The Australian Alpine Walking Track by the author (Roger Caffin), from Walhalla to Tharwa in 31.5 days, done in Autumn of 1999. This was unsupported: food drops were placed by car beforehand.
The Australian Alpine Walking Track by Jugglebutton. He soloed the AAWT, starting from Warbarton rather than Walhalla, used the Upper Yarra Trail to link into the AAWT, and used somewhat different drop sites for food. He is also an ultra-lightweight enthusiast.
The Australian Alpine Walking Track (part 1 of 3) by Les Skinner (figjam62 at gmail dot com) and friends, from Walhalla to Mt Hotham via Feathertop, done in 2004. Food drops were again placed by car.
The AAWT from Tharwa to Walhalla by Adriaan Homburg, with his brother and sister-in-law around the end of 2004.
Solo traverse of AAWT by Craig Doubleday from December 2004 to February. He got his family to meet him for food drops.
Nigel Christmas's solo traverse from Walhalla to Tharwa in early 2006. Some food drops, some car support. What's interesting is that he had not been walking for ages before he upped and did this trip.
Michel Dignand's solo traverse of part of the AAWT. The author claims his food list was about 300 grams per day (mine is ~700), but he lost a lot of weight on the walk - over 500 g per day in fact.
Australia - other
Bushwalking - Long Distance Walking Tracks: a listing of many of the long distance walks in Australia, by John Chapman
From Sydney to the South Coast: An 84 day walk down the coast by a couple of 'grey-beards' - David Briese and his wife. Not a lot of planning info yet, but good pictures.
Fraser Island to the Noosa River: A 230km trek that David Briese and his wife did in November 2005 from the north of Fraser Island to the Noosa River.
Great South West Walk, Victoria: from Portland to Nelson and back on the south coast of Victoria. About 250 km of fairly flat walking through very varied country: forests, river bank, beaches and headlands. The author (Roger Caffin) and his wife did this in winter: it wasn't so hot.
Larapinta Trail, Central Australia: from Mt Sonder and Redbank Gorge back to Alice Springs. About 230 km of very varied walking through some remarkable and ancient lands. The author (Roger Caffin) and his wife did this in the winter of 2006, taking about 12 days for the full length plus a diversion to Mt Giles, although all the guide books allow a longer time.
Europe
The Pyrenees by GR10 (France) and GR11 (Spain) by the author (caution: lots of (nice) pictures). These are typically 6 week trips, with shopping in the little villages along the way (baguettes, Brie, ...).
The GR5 from Lac Léman over the French Alps past Mont Blanc to the Mediterranean in France, by the author (caution: more (nice) pictures). This took about 4 weeks, with a very wide range of weather from snow storms to very hot and dry.
America
The Pacific Crest Trail by Phil Preston. This is a long distance Trail on the West coast of America. Phil gives information about planning and resources, with references to news groups with a PCT focus.
The Holy Cross area of Colorado by Joe Mack. This is a summary of a much longer article written by Joe. It gives a little information about the Holy Cross area; the rest of the summary is about the problems Joe encountered walking at altitude.
The John Muir Trail by Dave Noble. Dave does not list a lot of info himself, but some of his links have heaps of info on this Trail.
Coming - maybe someday
The Hume and Hovell Track (Roger Caffin) [under construction]
... any more?
© Roger Caffin 23/10/2002